Disclaimer!
Before you do anything on this page make a full backup of all files you care about !!! 
If you do something wrong you may need to format the machine! (Less of an issue with the latest drivers, but the disclaimer stands)
Define the problem:
Windows 10 Crashes on HP x360 Envy with the 2500u Processor – Vega 8 Video Driver.  Stability is so poor that the computer is nearly unusable.
Crashes are more prevalent if you try to watch video on Facebook or YouTube.
Step 1 Turn off hardware acceleration for video in your browsers. (Old Optional) 
Open Google Chrome.
Click Customize and Control Google Chrome > Settings.
Click on Show advanced settings and scroll to the System section.
Uncheck Use hardware acceleration when available and restart Google Chrome.
Brave and Firefox have similar setting.
Optional Step 1 
* If you happen to do any design work you may find that this fix causes unexpected problems with some of the development software and plugins. 
Step 2 Driver Update:
The driver provided by windows update and HP is 22.19.665.1.
You can download a none vendor specific version from the microsoft repository – Version 23.20.816.0.  Reports are that this version also isn't perfect, but it is a massive improvement over what comes loaded on the machine.
https://www.catalog.update.microsoft.com/Search.aspx?q=vega%2023.20.816.0
https://www.catalog.update.microsoft.com/Search.aspx?q=vega%2023 (This is a newer version I'm testing)…. 23.20.827.0 – So far so go.
https://www.catalog.update.microsoft.com/Search.aspx?q=23.20.817.256  
This driver worked really well.  I only had one lockup in a week and it may have been unrelated to the video driver.
https://www.catalog.update.microsoft.com/Search.aspx?q=23.20.841.1024  During the install my screen went black and didn't come back on.  I gave it a few minutes to make sure it finished the install process and rebooted the computer by holding down the power button.  The computer booted up without issue and seems stable.
– Never crashed, but it did have some lag.  I run two additional monitors most of the time so it may be a lot to ask of this machine. (HDMI and USB-C)
https://www.catalog.update.microsoft.com/Search.aspx?q=23.20.826.7936 Testing now.  Clean install didn't have to reboot.  Driver release date is 8/16/2018. THIS ONE HAS ISSUES… AVOID
https://www.catalog.update.microsoft.com/Search.aspx?q=24.20.11016.12001 Giving this one a shot. The time stamp is older but the version number appears higher so I'm not sure what's going on there.  Install went fine.
I've ran the last one a few months.  Seems to be very stable. – No crashes that I can attribute to the video driver.
The latest Driver… Testing…  25.20.15011.1004
https://www.amd.com/en/support/kb/release-notes/rn-rad-win-19-1-1 (This one is a little complicated to install).  The auto installer will not work, but you need to run it to extract the files… They will end up in the following directory…
C:\AMD\Win10-64Bit-Radeon-Software-Adrenalin-2019-Edition-19.1.1-Jan10\Packages\Drivers\Display\WT6A_INF
I think I would stay away from the latest driver from amd.  I lost the ability to dim my screen and had other issues.  I rolled back to 24.20.11016.12001.  
–  You'll still need to install with the method described below, but you won't need to do the extraction part. If you run the auto installer all the way through make sure you do not install the audio driver or you're going to have a bad day (make a restore point before play with this installer).  
Download the .cab file and extract it with something like 7zip.
– Windows doesn't have a built in extractor that works with cab files.
Download 7zip.  Once installed you can right click on the file.  Go to 7zip and extract the contents to a folder.  (use "extract to")
You should end up with something like this…

Once you have the files extracted into a folder you can install the updated driver.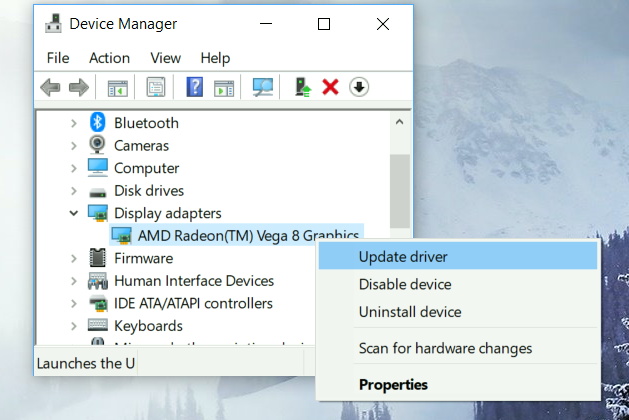 1. Go to cortana and type in device manager.
2. Go to display adapters, expand the menu and right click on the AMD Radeon Vega 8 Graphics.
3. Hit Update Driver
4. Click "Browse my computer for driver software"
5. Click "Let me pick from a list of available drivers on my computer"
6. Click "Have Disk"
7. Browse to the folder where you extracted the driver. Click into the top address bar and copy the address.
8. Copy the address into the disk location…. It will look similar to the following.  (Replace A:\ with the long address from your folder)
---

9. Select AMD Radeon(TM) Vega 8 Graphics and hit next.
Your screen may freak out while it installs the driver. (My computer actually crashed the first time I tried, but it did work on the second try).
With the latest driver your screen may go black and not turn back on…  Give it a few minutes before you do anything to the computer.  It should boot back up with the new driver as long as you let it finish the install.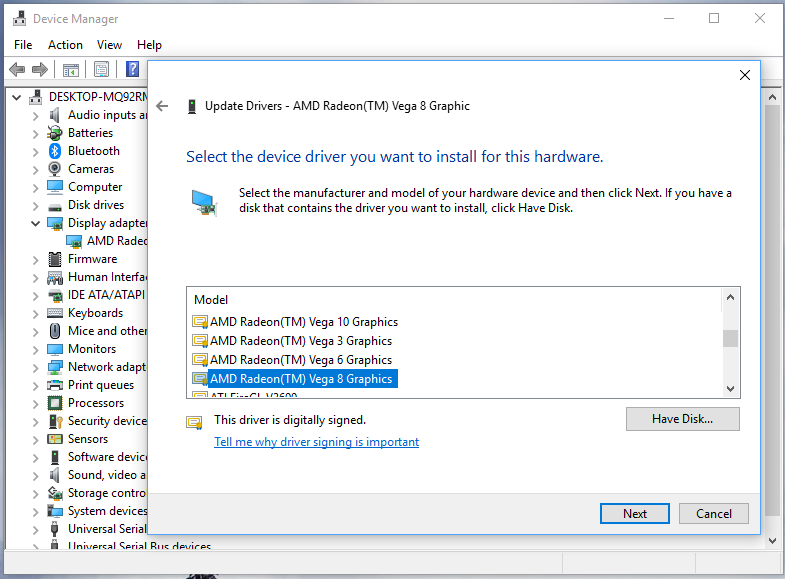 The following video is close, but make sure you click "Let me pick from an available list of Drivers" If you do it the way he shows in the video it may say you already have the best driver installed.
If you have Envy x360 there is also a Bios update that helps things….
https://support.hp.com/us-en/product/hp-envy-15-bq100-x360-convertible-pc/16851053/drivers
The bios update does take awhile to install and for some reason it screwed up my face recognition, but I was able to reset it without a problem.